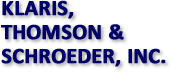 Business Valuation & Consulting Professionals
Los Angeles • St. Louis • Chicago Philadelphia • Tampa • Washington D.C.
ANITA THOMSON GRAHAM, BA, MA
PRESENT POSITION:Ms. Patricia A. Thomson Graham is a Valuation Consultant with the Long Beach, California office of Klaris, Thomson & Schroeder, Inc.
EMPLOYMENT:Before joining Klaris, Thomson & Schroeder, Inc., Ms. Thomson Graham had been associated with many diverse organizations, among them are ocdm direct mail in Orange County, California. Ms. Thomson Graham was their Business Development Manager responsible for the overall company growth, new business development and retention and overall production of marketing and direct mail services. Ms. Thomson Graham, through new business, was responsible for attaining over $80,000 in sales, within one year. Ms. Thomson Graham has also had a long-term tenure with one of the largest Managed Mental Health Care organizations in the nation, ValueOptions Inc., where she was the Accounts Liaison for several large fortune 500 companies. Additionally, Ms. Thomson Graham gained a wealth of customer service experience from the Hilton Hotel Corporation, where she worked for over 6 years. Ms. Thomson Graham has dealt with several Fortune 500 clients throughout the years such as ARAMARK Uniform Services, Nestle USA, Hewitt, Hewlett Packard, SAIC, Southdown Inc, Trammell Crow Residential, Toshiba (TABS, TAIS, TAEC, and TAI), Unocal and Wallace Corporation
Ms. Thomson Graham began her association with Klaris, Thomson & Schroeder, Inc. in 2005. She has prepared appraisals of residential, industrial and commercial real estate for estate tax, litigation support, estate planning, insurance, and sale/purchase. She specializes in the valuation of real property including commercial, and industrial involving fee simple, leased fee, and leasehold interests valuations.
She has attended numerous appraisal seminars and annual appraisal conventions.
EDUCATION:Ms. Thomson Graham earned her Masters in Organizational Management in 2002 from the University of Phoenix and her Bachelors of Arts in 1996 from Mount St. Mary's University in Brentwood, California. Additionally, Ms. Thomson Graham was awarded her Real Estate License in 1992 from the Lumbleau Real Estate School in Orange County, California.
Currently fulfilling requirements for the General Certified Real Estate License through the Appraisal Institute.