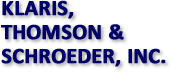 Business Valuation & Consulting Professionals
Los Angeles • St. Louis • Chicago Philadelphia • Tampa • Washington D.C.
Merger & Acquisition
Representation and
Consulting
KTS specializes in providing merger and acquisition services to sellers and buyers of private businesses or public companies divesting divisions and subsidiaries. In addition, KTS assists clients in industry consolidations, roll-up, and refinancing.
KTS has performed many valuations for both investors looking to purchase a business, as well as sellers engaged in the sale of a business. The analyses prepared by KTS appraisers for these purposes may be documented in a number of different formats, such as the evaluation of an offer received, an abbreviated valuation analysis of the subject business, assuming multiple scenarios for future operations, or the critique of a valuation of the business prepared by others.
KTS Core Services
KTS Core Services
Markets We Serve
Privately-held Companies
Publicly-traded Companies
Start-Up Companies
Private Equity Funds
Hedge Funds
Financial Institutions