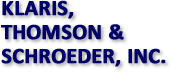 Business Valuation & Consulting Professionals
Los Angeles • St. Louis • Chicago Philadelphia • Tampa • Washington D.C.
Litigation and Expert Testimony Consulting
Many valuation court cases are won or lost based on the testimony of the valuation expert. Our professionals are experienced on the art of giving credible valuation testimony. The basis of most valuation testimony begins with a solid, defendable valuation report backed up by a professional who has the experience and communication skills to clearly explain the intricacies of the valuation.
We have provided expert testimony on numerous cases including the Davis Case which is a landmark valuation tax court case and on the damages case against The Wall Street Journal.
KTS provides litigation and expert testimony consulting services for purposes of:
Business Damages
Labor and Contract Disputes
Valuation Disputes
Family Law and Divorce
Buy-Sell Agreement Valuation and Consulting
Appraiser-Assisted Resolution
Dissenting Shareholders
Tax-Related Controversies
Expert Report Review
Corporate Restructuring and Review
Testimony and Trial Support
KTS Core Services
KTS Core Services
Markets We Serve
Privately-held Companies
Publicly-traded Companies
Start-Up Companies
Private Equity Funds
Hedge Funds
Financial Institutions