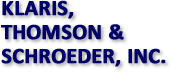 Business Valuation & Consulting Professionals
Los Angeles • St. Louis • Chicago Philadelphia • Tampa • Washington D.C.
RON A. STRAMBERG, ASA
PRESENT POSITION: Mr. Ron A. Stramberg is a Vice President and Manager of the Washington D.C. area office of Klaris, Thomson & Schroeder, Inc.
PROFESSIONAL AFFILIATIONS: Mr. Stramberg is an Accredited Senior Appraiser (ASA), certified in the valuation of businesses and intangible assets, by the American Society of Appraisers. He currently serves on the International Board of Examiners of the American Society of Appraisers. Mr. Stramberg is also a candidate for Certified Business Appraiser (CBA) designation awarded by the Institute of Business Appraisers.
EXPERIENCE: Mr. Stramberg has been actively engaged in the appraisal profession since 1983. He has prepared and managed the valuations of numerous types of closely held businesses, many types of intangible assets, and inactively traded public and restricted securities. His experience encompasses the valuation of controlling and minority interests of closely held businesses, including corporations, partnerships and proprietorships, for purposes of: sale/purchase, financing, Employee Stock Ownership Plans (ESOPs), buyouts, recapitalizations, estate planning, estate taxes, gift taxes, business dissolution, marital dissolution, allocation of purchase price, and corporate planning. Mr. Stramberg has also prepared transaction analyses and due diligence studies for solvency letters and fairness opinions. In addition, he has a significant amount of experience in the valuation of the following types of intangible assets: patents and patent applications; trademarks and trade names; customer lists; employment, consulting and non-competition agreements; computer software; engineering drawings; proprietary technologies; assembled work forces; distribution networks; and license agreements.
EMPLOYMENT: Prior to joining Klaris, Thomson & Schroeder, Inc., Mr. Stramberg had been a Principal with the Washington, D.C. area regional valuation firm of Bethesda Valuation Advisors, LLC. Before his association with Bethesda Valuation Advisors, LLC, Mr. Stramberg was employed in senior valuation consulting positions with the Internal Revenue Service, BIA Consulting, Inc. and another national multi-discipline appraisal firm. His earlier work experience included valuation associate positions at Arthur Young & Company and Valtec Associates, Inc.
TEACHING/IRS EXPERIENCE: Mr. Stramberg has taught business valuation to senior level appeals officers of the Internal Revenue Service and was principally responsible for updating the Internal Revenue Service Valuation Training Manual for Appeals Officers during 1996-1997. EDUCATION Mr. Stramberg obtained his B.S. degree in accounting from Pennsylvania State University and did his graduate work in finance at the University of Texas.